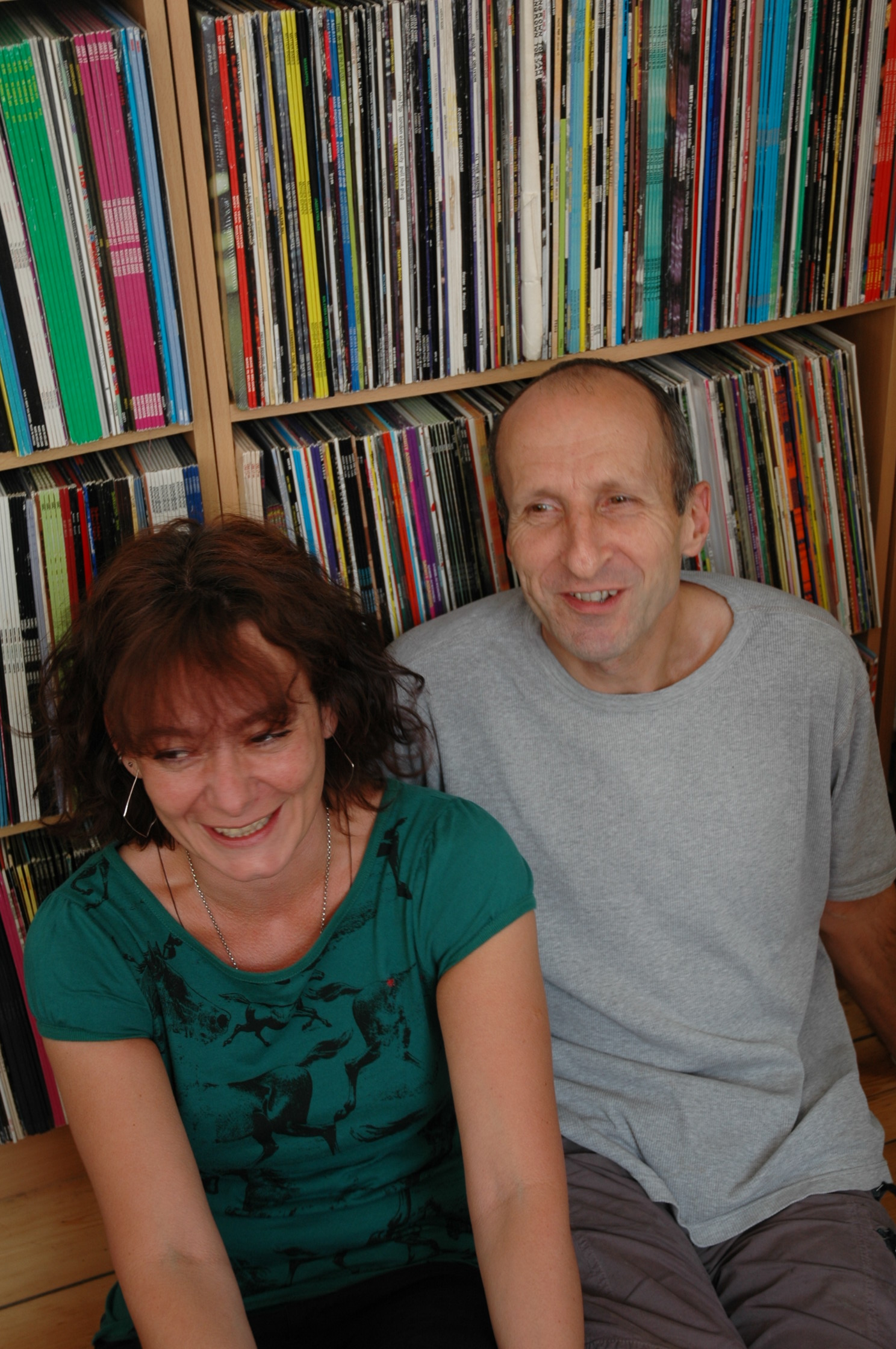 Who we are
Rhythm Online is a small record shop on the net, run by Nick and Jude Clarke from our small terraced house in Cambridge. We specialise – very broadly speaking – in all things alternative or 'independent', and pride ourselves on the size and comprehensive yet eclectic nature of our listings. We can offer all the newest indie releases and also a huge selection of rare and collectible items. We're also dead good at tracking stuff down for our customers, so if there's something that you are after that we haven't got listed then drop us a line and we'll do our best to get it for you!
How we started
Rhythm's first incarnation was as a market stall in Plymouth, which Nick started in 1985 having quickly tired of a management job at HMV (who had 'headhunted' him when he was happily working for the now-defunct Andy's Records). The market stall soon developed into a mail order catalogue – starting with laboriously hand-typed lists in the pre-computer age, and then slowly evolving in size and sophistication until we finally took the plunge and went online in the early noughties. 2007 saw a dramatic revamp of our previously pretty low-tech website into the current format, which we are trying very VERY hard not to call Rhythm 2.0.
What we stand for
Despite the changing formats over the years, our "ethos" has remained pretty much the same – we are first and foremost music fans, and are in this for the love of music. We are passionate about offering our customers – some of the coolest and most dedicated musos in the world – a real, friendly, helpful, personal service. We care about this stuff, and we also care about making sure our listings are as up-to-date, accurate and relevant as possible to people like you. Some lovely people, in recent years, have said things like this about us:
How to contact us
Postal Address:
41 Ashbury Close, Cambridge, CB1 3RW, UK
If you want to discuss:
An order you've made and are waiting for /// a particular record (or records) that you want us to find for you /// how you can get your band's music on our lists /// pricing /// or anything else that doesn't fit into another category
…then contact [email protected]
Gig reviews /// record reviews /// swapping links /// our mailing list /// advertising or promotions /// press ///
…then contact [email protected]
Love Music Hate Racism
: a campaign Rhythm wholeheartedly endorses
This site was designed by: //blindeye//

Do you want to exchange links? Have you spotted an annoying dead link?
F.A.Q.
How long will my order take to arrive?
If items are not actually in stock, we order them in from many different specialist sources. Usually, they arrive, and are dispatched, within 24 hours, but some take longer, especially if they come from smaller labels or overseas. If you want an order within a certain time please let us know and we will keep you updated by email on its progress. If you are paying by credit or debit card, payment is not taken until an order has arrived and is being packed here for you.
Can I pay by another method than credit or debit card?
Sterling cheques, postal orders and international money orders in pounds sterling are all acceptable, payable to N.R. Clarke. You can send paper money, wrapped securely, in sterling, US dollars and euros at no extra cost. A surcharge may apply to other currencies. We do not currently have a Paypal facility.
What are the postage rates if I am ordering from outside the UK and Europe?
These are calculated for each individual order because of the subtle variations in vinyl and CD weights. Postage is charged at cost price plus £0.50 for handling. You will be emailed on the dispatch date with the total amount.
Are prices negotiable?
We try to keep our prices reasonable and competitive, but if you're placing a large order we can be open to offers.
What if an item I have ordered is sold out or deleted?
Both the main catalogue and rarities list on our site are continually being updated, but if this happens you will only pay for what you get. If you have alternative choices, please give them.
How do I know the order page is secure?
The padlock symbol at the bottom of the order page indicates it is secure, which means only we have access, through a password, to your personal details. Any personal information sent by post is shredded before disposal.
Can I get more information on items that may interest me?
Email us with what you want to know and we'll try and answer any of your questions. Because the site is new, it will take some time before all our listings provide additional information on track listings or reviews, for example.
What if I can't find anything listed by the band or artist I'm looking for?
We have access to many suppliers and distributors all over the world but cannot possibly list everything! We also provide a wants list on the site for customers' use so may still be able to track down deleted and rare items this way. Just email us with your list of wants.
How can I sell my label or band releases on the site?
Contact
[email protected]
with all the details such as title/price/format and we'll take it from there.